---
Adapter for connecting IQRF transceiver to single-board computers (Raspberry Pi and many others with compatible interface connector).
More
Manufacturer: IQRF Tech s.r.o.Product code: IQRFKONRASP01Shipping and Payment
6,89 EUR excl. VAT, 6,89 EUR incl. VAT
Volume discount
| | | | |
| --- | --- | --- | --- |
| quantity | 1-4 | 5-19 | 20+ |
| price / unit | 6,89 EUR | 6,20 EUR | 5,86 EUR |
* after adding to the cart, the price is recalculated according to the selected quantity
** for larger quantities ask for the project price here
*** 5% discount for registered customer is deducted from the above price
Adapter for connecting IQRF transceiver to single-board computers (Raspberry Pi and many others with compatible interface connector).
More
Manufacturer: IQRF Tech s.r.o.Product code: IQRFKONRASP01Shipping and Payment
You can use the adapter to connect the IQRF transceiver to a single-board computer such as a Raspberry Pi, UP Board, etc. The transceiver can (but does not have to) act as an IQRF network coordinator and send commands to the IQRF network via a connected computer, for example to control or read IQRF nodes.
For more information: User´s guide KON-RASP-01
Last visited (1)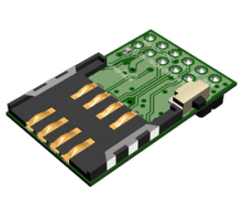 Not available
from 5,86 EUR
excl. VAT
7,0906 EUR
incl. VAT
Adapter for connecting IQRF transceiver to single-board computers (Raspberry Pi and many others with compatible interface connector).