---
The IQRF operating system is continually developed. From OS v3.06D, upgrades can be done by the user oneself, using simple instructions. Please note that there is an exception in downgrading from 4.xx to 3.xx. This downgrade is not possible.
More
Product code: IQRFOSUpgradeShipping and Payment
0,35 EUR excl. VAT, 0,35 EUR incl. VAT
The IQRF operating system is continually developed. From OS v3.06D, upgrades can be done by the user oneself, using simple instructions. Please note that there is an exception in downgrading from 4.xx to 3.xx. This downgrade is not possible.
More
Product code: IQRFOSUpgradeShipping and Payment
The IQRF operating system is continually developed. TR transceivers can be upgraded to current versions released by the IQRF manufacturer.
From OS v3.06D, upgrades can be done by the user oneself, using IQRF IDE v4.30 (menu Tools - Change IQRF OS Wizard) or higher.
Downgrades (down to v3.06D or higher) are possible as well.
Please note that there is an exception in downgrading from 4.xx to 3.xx. This downgrade is not possible.
For lower OS versions the upgrade has to be done by IQRF manufacturer only.
Last visited (1)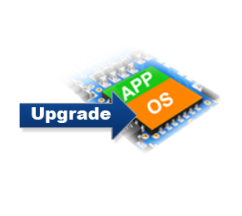 0,35 EUR
excl. VAT
0,35 EUR
incl. VAT
The IQRF operating system is continually developed. From OS v3.06D, upgrades can be done by the user oneself, using simple instructions.…