---
Adapter for connecting IQRF transceiver to any device such as Arduino, Gemalto, chipKIT or Raspberry Pi. For 3.3V.
More
Manufacturer: IQRF Tech s.r.o.Product code: IQRFBB02Shipping and Payment
4,98 EUR excl. VAT, 4,98 EUR incl. VAT
Volume discount
| | | | |
| --- | --- | --- | --- |
| quantity | 1-4 | 5-19 | 20+ |
| price / unit | 4,98 EUR | 4,48 EUR | 4,23 EUR |
* after adding to the cart, the price is recalculated according to the selected quantity
** for larger quantities ask for the project price here
*** 5% discount for registered customer is deducted from the above price
You can use the adapter to connect the IQRF transceiver to a single-board computer such as Arduino, Raspberry Pi, etc. The transceiver can then (but does not have to) act as an IQRF network coordinator and send commands to the IQRF network via a connected computer, for example to control IQRF nodes or read data.
For more information: User´s guide IQRF-BB-02
Last visited (1)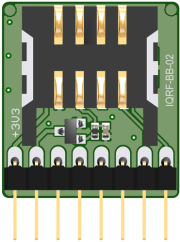 In stock
from 4,23 EUR
excl. VAT
5,1183 EUR
incl. VAT
Adapter for connecting IQRF transceiver to any device such as Arduino, Gemalto, chipKIT or Raspberry Pi. For 3.3V.