---
Aggregating repeater to extend the range and increase the robustness of the IQRF network. Version in a pleasing version to the socket in visible locations.
More
Manufacturer: MICRORISC s.r.o.Product code: IQRFIQDREP02W1DShipping and Payment
90 EUR excl. VAT, 90 EUR incl. VAT
Volume discount
| | | |
| --- | --- | --- |
| quantity | 1-19 | 20+ |
| price / unit | 90 EUR | 81 EUR |
* after adding to the cart, the price is recalculated according to the selected quantity
** for larger quantities ask for the project price here
*** 5% discount for registered customer is deducted from the above price
Aggregating repeater to extend the range and increase the robustness of the IQRF network. Version in a pleasing version to the socket in visible locations.
More
Manufacturer: MICRORISC s.r.o.Product code: IQRFIQDREP02W1DShipping and Payment
The aggregating repeater stores data that IQRF devices transmit in the IQRF network using beaming. The repeater contains a larger external memory, thanks to which this storage is enabled. When a request is made by the IQRF network to collect data from such sensors, the repeater returns the data it has stored. The sensors can thus "sleep" and save energy for most of the time, thus ensuring that such sensors can operate for more than 10 years on the battery, while regularly providing measured data.
The repeater is constantly powered from the mains, which allows it to be always on reception.
Product in a pleasing design into a socket for installation in visible locations.
Technical specifications:
dimension: 55 mm x 77 mm x 80 mm
weight: 90 g
transmission technology: IQRF
operating temperature: -20 °C to +60 °C
relative humidity: 0 - 90 %, without condensation
range: tens of meters in buildings (depending on the environment and obstacles), up to 400 m in open space, many times more than the Wi-Fi signal
RF band: IQRF 868 MHz (optionally 916 MHz)
power supply: 100-240 V AC
Note: The repeater is included in the required quantity of the IQAROS set. The sensors that are part of the set must be within range of at least one repeater. One repeater usually has 4-6 sensors. If you want to include more of them in the IQAROS set, contact the manufacturer directly - https://iqaros.cz/en/custom.html.
For more information: User´s guide IQD-REP-02-x1D
Last visited (1)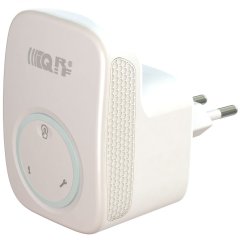 In stock
from 81 EUR
excl. VAT
98,01 EUR
incl. VAT
Aggregating repeater to extend the range and increase the robustness of the IQRF network. Version in a pleasing version to the socket in…