---
Universal portable host for IQRF transceivers. With this development tool, you will test the prepared IQRF network, range and coverage.
More
Manufacturer: IQRF Tech s.r.o.Product code: IQRFDKEVAL04AShipping and Payment
35 EUR excl. VAT, 35 EUR incl. VAT
Volume discount
| | | | |
| --- | --- | --- | --- |
| quantity | 1-4 | 5-19 | 20+ |
| price / unit | 35 EUR | 31,50 EUR | 29,75 EUR |
* after adding to the cart, the price is recalculated according to the selected quantity
** for larger quantities ask for the project price here
*** 5% discount for registered customer is deducted from the above price
Universal portable host for IQRF transceivers. With this development tool, you will test the prepared IQRF network, range and coverage.
More
Manufacturer: IQRF Tech s.r.o.Product code: IQRFDKEVAL04AShipping and Payment
The device is designed to power the embedded IQRF transceiver and thanks to its design, you can also use the available contacts, pins, to test the input and output signals that the IQRF transceiver located in this device receives.
Typically, you can use this device to test the signal range of an IQRF network and determine how permeable the locations in your environment are.

Many examples can be found in the IQRF Startup Package.
For more information: User´s Guide DK-EVAL-04A
Last visited (1)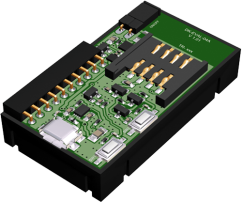 In stock
from 29,75 EUR
excl. VAT
35,9975 EUR
incl. VAT
Universal portable host for IQRF transceivers. With this development tool, you will test the prepared IQRF network, range and coverage.