---
Programmer to upload codes into IQRF transceivers and testing IQRF applications. It is one of the main development tools of IQRF.
More
Manufacturer: IQRF Tech s.r.o.Product code: IQRFCKUSB04AShipping and Payment
55 EUR excl. VAT, 55 EUR incl. VAT
Volume discount
| | | | |
| --- | --- | --- | --- |
| quantity | 1-4 | 5-19 | 20+ |
| price / unit | 55 EUR | 49,50 EUR | 46,75 EUR |
* after adding to the cart, the price is recalculated according to the selected quantity
** for larger quantities ask for the project price here
*** 5% discount for registered customer is deducted from the above price
Programmer to upload codes into IQRF transceivers and testing IQRF applications. It is one of the main development tools of IQRF.
More
Manufacturer: IQRF Tech s.r.o.Product code: IQRFCKUSB04AShipping and Payment
You connect the programmer to computer via USB port and via the IQRF IDE application, which is freely downloadable at www.iqrf.org, you can upload the necessary software, configuration, or send commands to the IQRF transceiver which is located in the programmer. You can test your application, debug and eliminate errors, or just use this device as a host for the IQRF transceiver.
For more information: User´s Guide CK-USK-04A
Last visited (1)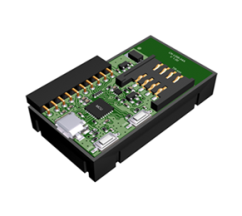 Rating value is 5 of 5
In stock
from 46,75 EUR
excl. VAT
56,5675 EUR
incl. VAT
Programmer to upload codes into IQRF transceivers and testing IQRF applications. It is one of the main development tools of IQRF.