Development tools - Obsolete

Development tools for creating applications for the IQRF wireless network. They allow you to program, set up and test IQRF transceivers.
We can offer individual development kits or discounted development sets.
* our company is not responsible for mistakes in product information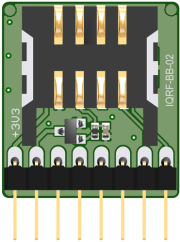 In stock
from 4,23 EUR
excl. VAT
5,1183 EUR
incl. VAT
Adapter for connecting IQRF transceiver to any device such as Arduino, Gemalto, chipKIT or Raspberry Pi. For 3.3V.